TruAGE Skin AGE Therapy Gel by Morinda: Reverse Signs of Aging Naturally!
It is time for my follow-up post! Last month I shared my
first impressions and product information for Morinda's new TruAGE Skin AGE Therapy Gel
. Well, now that I have been using this product for about 6 weeks, I am ready to share my video review. Plus, I have a giveaway for 5 Full-Sized tubes of TruAGE Skin AGE Therapy Gel for 5 lucky winners!!!
Excess sugars in the bloodstream bind with proteins in the skin causing stiffness and inelasticity; impairing the skin's protective function.


As I mentioned in my previous post, TruAGE Skin AGE Therapy Gel is a glycation-fighting formula in a light moisturizing gel. This product soothes and protects your skin while also repairing stressed or damaged skin and improving your skin's appearance. AGE Therapy gel contains a natural blend of ingredients to fight signs of aging and AGEs: noni, Cornelian cherry, olive leaf, blueberry and cranberry extracts. These natural ingredients work by penetrating into your skin where they dissolve the excess sugars molecules
and remove them from your system to stop the formation AGEs. If you want to hear more details about glycation and how TruAGE works, please be sure to go back and read my
First Impressions/Product Info post here
.
My Skin:
Before diving into my review and more details about TruAge, let me tell you about my skin type. My skin is classic combo skin: normal-oily in Summer (oil through t-zone) and normal-dry in the Winter. I just turned 40 (almost 2 months ago!). So, I am trying to fight signs of aging. At this point, I pretty much just have fine lines/expresion lines around my eye area. These are most apparent when my skin gets dehydrated. I rarely break out. However, I do get the occasional blemish on my chin.
How I Use TruAGE Skin AGE Therapy Gel:
AGE Therapy Gel has been a great addition to my skincare routine! This product is a clear, unscented, and lightly moisturizing gel. While this product can be used on both body as well as face, I have primarily been using it for facial skincare.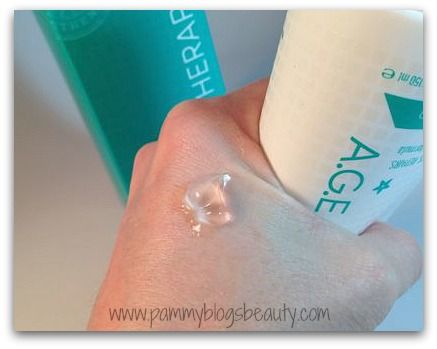 I use AGE Therapy Gel in the mornings and the evenings immediately after washing my face (sometimes I apply toner first and sometimes I do not...just depending on if I am in the "mood" for a toner that day, lol). I follow up in the am with my facial moisturizer/sunscreen and in the evenings with either my treatment products, night cream, or facial serum (serum before night cream). Sometimes I use it in place of a skin serum and sometimes I use it in addition to a skin serum. While this product is hydrating, I do need to use a moisturizer after this product for my combo skin. If you have oily skin, TruAGE Skin Age Therapy Gel could potentially be hydrating enough for you on its own without needing to add a moisturizer. I think that TruAGE Skin AGE Therapy Gel can work for any skintype depending on what products you use with it!
I love how this product sinks in almost instantly. It is like my skin literally "drinks" it right in! The product has such a lightweight feel. It almost feels weightless on your skin. I find that TruAge Skin AGE Therapy Gel has an immediate toning and almost firming/lifting effect to my skin.
I feel that continued use of this product has increased my skin's overall hydration, smoothed my fine lines, improved tone, and has generally improved the appearance of my skin. Using this in addition to my regular moisturizers or daytime creams has certainly enhanced my skin and given it an overall boost. I have found it to be a really easy step to add to your everyday skincare routine. It seems to work well when layered under my other skincare products like my daytime SPF or my night cream. Plus, I love knowing that this product is fighting AGEs while also improving my skins appearance.
The Skinny:
TruAGE Skin AGE Therapy Gel by Morinda is available at Morinda.com and retails for $42.00.
Video Review: TruAGE Skin Age Therapy Gel:
Be sure to watch my Video Review!
Giveaway:
The Prize: Five winners will each win a full sized tube of TruAGE Skin AGE Therapy Gel.
The Rules:
You must be 18 years old to enter (or have your parents permission).
Prize is shipped directly to the winners by Pammy Blogs Beauty. Pammy Blogs Beauty is not responsible for items lost or damaged in mail/transit. Prize fulfillment is through TruAGE/Morinda. Prize is not redeemable for cash.
To enter the contest, you must fill out Rafflecopter form below. The winner will be chosen randomly through Rafflecopter. In the event of technical error, Pammy Blogs Beauty reserves the right to pick the winner. The entries will be verified as needed and individuals with multiple or falsified entries will be disqualified.
Only one entry per person. With that said, you may earn extra entries by tweeting, liking on Facebook, etc on the Rafflecopter form (see details below on how to earn extra entries).
Contest is void where prohibited by law.
Contest runs from 8/28/14-9/19/14 . Winners have 48 hours to respond to winning email from Pammy Blogs Beauty or a new winner/winners will be selected.
To Enter the Contest (required rules):
Please see the rules listed above.
1. You must be a follower/Subscriber of this blog in at least one way to enter. You have multiple ways to follow this blog: e-mail subscription, Google Friend Connect, F
acebook
, T
witter
,
Pinterest
,
Google+
,
BlogLovin
, and
Instagram
. The more ways in which you follow this blog, the more chances that you have to win!
2. Fill out Rafflecopter form below.
3. Answer question in comment form below: Do you use any products to fight Glycation? What intrigues you the most about TruAge Skin AGE Therapy Gel?
4. You must like
Pammy Blogs Beauty's Facebook page
.
5. You must follow
Pammy Blogs Beauty on Google+
6. You must follow
Pammy Blogs Beauty on Twitter
.
Enter here:
a Rafflecopter giveaway