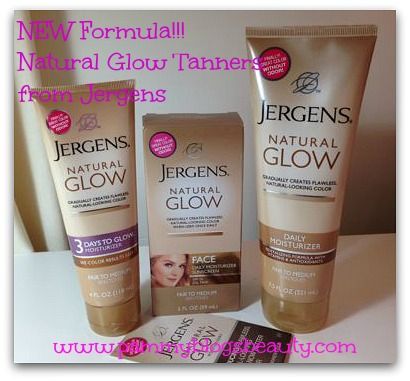 What would I do without self-tanner??? As an extremely pale person, self-tanning is, quite frankly, the only way I can get a tan.
Over the next few months, I am going to take you on a self-tanning journey with me! I am testing out the newly reformulated self-tanning products from Jergen's. These newly formulated products promise to deliver flawless, natural-looking color without that trademark self-tanning odor! I plan to consistently self-tan and report on my tanning progress!
Self Tanning Mishaps:
I certainly have my fair share of self-tanning mishap stories: uneven tan, flaky skin, and orange/yellow color.
The Smell:
Self-tanners are notorious and synonymous for smelling bad. So, the promise of a self-tanner that has reduced odor is seriously appealing!!! As much as I love getting tan, I really do not like typical self-tanner's smell.
Streaky or Patchy Results:
I have had streaks, patches with *no color* (lol), and too much color on knees, ankles, and elbows. Lets face it, a bad self-tan is worse that no tan at all!
Flaky Skin:
Not only is it not attractive, but also as your skin flakes you are essentially shedding off your tan! My skin is prone to dryness anyways. So, battling the flakies can be a challenge for me while self-tanning.
Bad Color and an Un-Natural Looking "Tan":
Oh, this is the worse! I think it is so hard to get a natural-looking tan with super duper fair skin! Many tanners end up looking too yellow or too orange on me.
My Tips for Great Self-Tanning Results:
The good news is that you can certainly get a fabulous and natural-looking self-tan!!! Here are my tips and tricks for getting fabulous self-tanning results:
The key to getting an even self-tan without streaks is to exfoliate first!!! Use a non-oily body scrub in the shower.
Before applying tanner, smooth a body moisturizer over any area that tends to collect tanner and get too dark. This will prevent too much tanner from collecting in that area.
Tips from Jergen's:
Start with the 3 Days to Glow product to "jump start" your color. Then maintain with the Natural Glow Daily Moisturizer.
Smooth products on in circular motions.
Always wash your hands afterwards!
Be sure to moisturize!
Introducing the NEW Jergen's Natural Glow Collection:
Jergens 3 Days to Glow: Fair to Medium
This product promises to get you one shade darker in just 3 days. I love the super thick and creamy feel of this moisturizing tanner. Even just one day of use gives me a lovely hint of color! Three days of use certainly gives me a natural looking light tan. I love this stuff!
Jergens Natural Glow Daily Moisturizer: Fair to Medium
This product is designed to give you a very gradual tan within a few days. You use it in place of your usual body moisturizer. The Natural Glow Daily moisturizer really is as easy to use as a regular moisturizer. While not as thick as the "3 Days to Glow" moisturizer, this tanner still has a nice and creamy feel.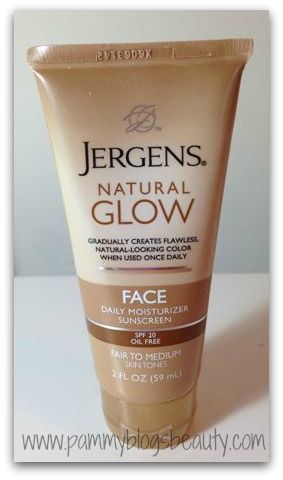 Jergens Natural Glow Face + Protect Daily Moisturizer: Fair to Medium:
This is Jergen's gradual tanner for the face. It has an SPF of 20. So, you can use it in place of your usual daily moisturizer with SPF. I apply every few days in the morning to give my face a hint of color. The moisturizer is lightweight and has a non-greasy feel. Also, it does not sting nor irritate my sensitive skin.
My Tanning Progress So Far:
I am so excited about this challenge! Even the slightest bit of self tan color gives me a "boost"! My goal is to self-tan a few times a week and maintain progress over the course of a few months.
My Before and After:
As you can see from my "before" arm shot, I am quite fair! I don't like going too dark. I just like losing that "stark whiteness". "jump started" my tan with the "3 Days to Glow" product and am maintaining with the Natural Glow Daily Moisturizer. "3 Days to Glow" gave me a nice and subtle tan. I found it to be super quick and easy to use. Each day the color got ever-so-slightly darker. You don't even need to use it the full 3 days to get results as I was pleased with my tan by day 2. As you can see in the photo, the tan is subtle, but pretty and natural. To maintain the tan, I use the Jergen's Natural Glow Daily Moisturizer.
Improved Smell? Results?
There is no question that they have improved the scent of the Jergens Natural Glow Collection! Their claims for reduced self-tanning odor are true!!! I am blown away with the lack of tanning odor!With these Jergen's products I literally have to put my nose right to my skin and to even detect the extremely faint self-tanning odor. For this reason alone, I will always purchase Jergen's over other self tanners that I have used in the past. Plus, I can now tan during the day without having to worry that I smell bad because of the tanner!
As far as results, I am super pleased! These products give me a lovely and natural looking light tan in just a few days. I find that I can get great color without the smell.
I will keep you posted over the next few months as I continue to use these tanners. As I mentioned, I will start tanning more frequently and going a bit "darker" with my self-tan as the weather gets warmer.
As always, thanks for reading and stay beautiful!!!
NEW
Jergens® Natural Glow Moisturizer
provides the same great, natural-looking color but without the sunless tanner odor!
Be sure to check out
Jergen's new Microsite
!
Share your embarrassing tanning story for your chance to win a $250 Visa gift card.
This is a sponsored conversation written by me on behalf of Jergens Skincare®. The opinions and text are all mine.
Official Sweepstakes Rules.