Keeping my hair looking and feeling healthy can be quite a challenge...especially as I get older! My hair is heavily highlighted, long, and I often rely on heat tools. I am picky with my hair products. Plus, I invest a lot in my highlights. So, I want my hair to look as shiny and healthy as possible. Luckily, good hair products don't have to cost a fortune. You just need to know what works for your hair. Today I would love to share with you the fabulous Roux Anti-Aging Product Collection. These products are giving my hair exactly what it needs! Plus, I have a Giveaway for 5 Roux collections (5 winners will each win an entire Roux Anti-Aging collection!).
Anti-Aging Hair Care?
This was a banner year for me...I turned 40. No, nothing magically changed at 40. Wrinkles and dull hair didn't appear overnight, lol. However, reaching this milestone has heightened my awareness and desire for anti-aging products. I would like to keep not only wrinkles, but also dull and dry hair at bay. Yes, the aging process even effects your hair.
What do we see as our hair ages?
Just as your skin can start to develop fine lines and look dull as early as your twenties, your hair can age prematurely, too. Color loss, thinning, breakage and dryness can all make hair look lifeless and fragile, as mechanical, environmental and chemical stresses take their toll.
The good news? Roux has a new Anti-Aging Hair Care line! The line offers 10 products for the full range of age-related hair issues. Roux's Anti-Aging Hair Care line can bring back your healthy, strong, full, and shiny hair (no matter what your age!).
What is special about Roux's Anti-Aging Line?
This entire line contains Roux's exclusive Instant Vitality Complex, an anti-aging blend of anti-oxidant vitamins A and E, keratin, biotin, panthenol and UV filters. Together, they provide a powerful defense against signs of aging hair, including dullness, breakage, dryness, thinning and unruly grays. The keratin-enriched formulas repair damage and replenish moisture, improve the hair's strength from the inside out and prevent further damage, leaving hair renewed, with vitality, bounce and youthful shine.
What have I seen as my hair has aged? I have definately noticed that my hair texture has gradually changed as I have gotten older. My hair is certainly more coarse and dry. I also notice a lack of shine. However, I am not sure if I should attribute that to age or my constant cycle of highlights. Either way, I always seek out products designed to tame my hair, bring back shine and moisture, increase
comb-ability, and reduce breakage.
The Products: Roux's Anti-Aging Hair Care Line:
Shampoos and Conditioners
:
Roux Anti-Aging Keratin Repair Shampoo and Conditioner:

This shampoo and conditioner gently cleanses your hair while increasing your hair's strength and preventing possible future damage. How does it do this? The formula contains Keratin Amino Acids and Biotin which are powerhouse ingredients for hair strength. They help to re-build hair and leave it stronger. The formula also contains Vitamins A & E and UV protectors. I absolutely adore this shampoo/conditioner combo. Not only do these products smell amazing, but also the shampoo works into a nice lather and the conditioner feels so thick and nourishing. Kertain products are crucial not only for aging hair, but also hair of any age that gets chemical services like highlights or color. I find that my hair feels stronger when I use this. I see less breakage and my hair is left shiny, soft, and manageable while also not being weighed down. Retails for $10.49 each.
Roux Anti-Aging Color Protect Shampoo and Conditioner:

This color

protect formula fights color-fade while gently replenish lost moisture. The formula includes powerhouse hair-loving anti-oxidants, including vitamins A & E. These work to nourish and protect the hair, while also shielding it from damaging UV rays. This, in turn, locks in hair color and locks out damage caused by environmental stressors. So, you get longer-lasting color, while fighting signs of hair aging! Now, who doesn't want that! :) While I do not get my hair colored (my highlights remove my hair color and I do not get any additional color added back into my hair/no lowlights or toners), I do still enjoy using this shampoo and conditioner. It is so gentle on my hair and leaves it feeling soft and nourished. Plus, it has that amazing Roux scent! I love the thick and rich feel of this shampoo. It works up such an amazing lather. I find that my hair is super bouncy and shiny when I use this shampoo and conditioner combo. It allows my hair to feel soft and smooth while not weighing it down in the least. I am very impressed!!! Retails for $10.49 each.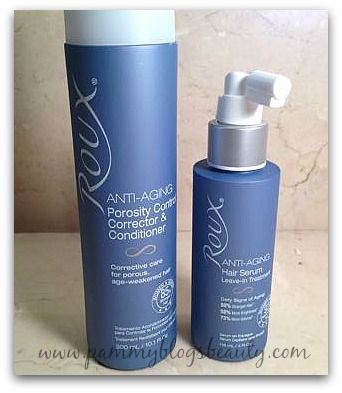 Serum and Corrector:
Roux Anti-Aging hair Serum:

This is a leave-in spray treatment that reduces hair breakage while also adding volume and strengthening the hair. It is so easy to use! I simply spray about 8 pumps of this leave-in into my hair after towel drying. Unlike other leave-ins, you spray this one towards the roots and comb it through so it works root to tip. The formula includes Keratin Amino Acids and biotin to rebuild your hair while. This allows you to have longer and stronger hair. This product is great for both thin hair as well as weakend hair. While my hair is in no way thin, it certaily is weak from highlights (and possibly age as well). I like how this product helps to stregthen and give volume without making hair feel greasy nor weighing hair down. Plus, yes, it smells amazing! Retails for $11.99.
Roux Anti-Aging Porosity Control Corrector & Conditioner:

I am so excited that I have a chance to talk about this amazing product. I have actually been using Roux's Porosity Control as part of my pre-and post- highlights routine for the past 10+ years (while this product is newly named "anti-aging", it has been in the Roux line for years)! I always treat my hair to an at-home protein and moisture treatment before and after getting my highlights. My last step in this process (protein treatment, moisture treatment, and then Porosity Control) is Roux's Porosity Control! So, what is it? Roux Anti-Aging Porosity Control Corrector & Conditioner

infuses moisture into hair and equalizes its porosity to return it to a balanced state, leaving it more manageable, with increased smoothness and vibrancy. This anti-aging treatment leaves age-weakened hair looking healthier with a more youthful shine. It can also be used to prepare the hair for chemical treatments by equalizing its porosity to achieve predictable results. Roux's consumer panel agreed that their hair was 85% stronger with regular use. One of the biggest issues with chemically treated hair is the porosity. If you can equalize this, you will quite simply get better results with your chemical service. It is a step in my home hair treatment that I never skip! Even though I have used it for years as a pre-and post- chemical service treatment, I never thought of just using it as a conditioning booster. Now that I know it can leave my hair more managable all the time, I am going to use it more frequently! Retails for $10.99.
Leave-In Treatments:
Roux's Anti-Aging Line includes four different types of single use leave-ins. These come packaged in 3-packs with 3 single use "ampoules" (little vials that you cut/snap the top off). There are four formulas (see bullet points below for details about each formula). So, bascially, just think about your particular hair needs and choose accordingly! Thats how I choose. I like rotating the Leave-In treatments depending on what my hair needs that day. My favorite of these is the Extra Moisture Leave-In Treatment as that seems to be my biggest concern. However, I do like to switch them up. The only formula that I do not use quite as often is the Hair & Scalp Rehab formula as I have no issues with hair growth nor thinning hair.
These Leave-In Treatments by Roux are super easy to use! Just shake up the little vial and then snap off the top. Then, apply entire vial to your damp or dry hair and massage in. Next, you just proceed to style as usual. I find that I use these when my hair is towel dried and still damp. These little single use vials can be used once a week for best results. To me, these are salon-quality treatments that you can do in the comfort of your own home. They really make a huge difference in both the health of my hair and how my hair looks and feels. The formula feels "thin" and watery. However, it packs a major treatment punch! I can't get over how shiny and nourished my hair looks and feels after using these treatments! What do I love even more than that? These treatments give your hair vital nutrients while not weighing your hair down or making your hair feel greasy like so many deep treatments do. I really adore these single use treatments!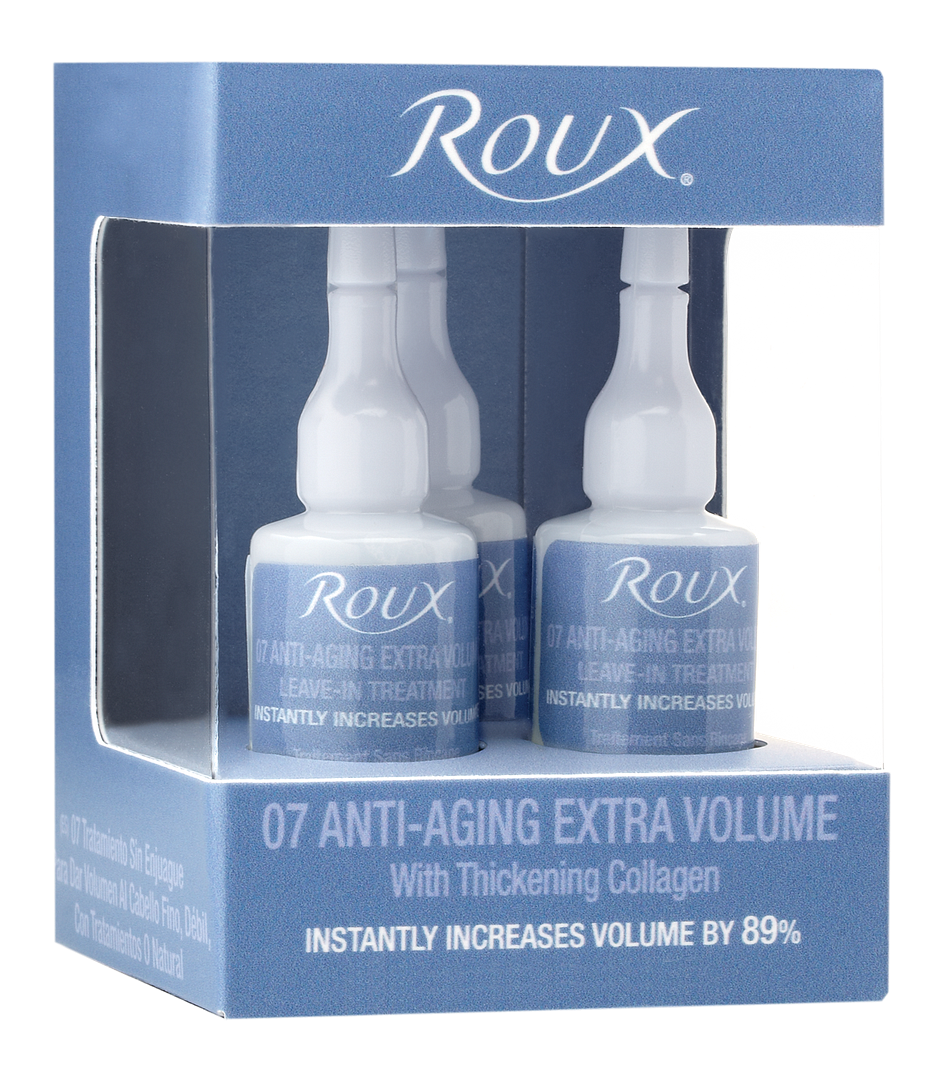 Roux Anti-Aging extra Moisture Leave-in treatment

with replenishing panthenol hydrates the hair, increasing moisture by 76% instantly to fight signs of aging. Anti-oxidant vitamins A & E and biotin hydrate and condition the hair to improve manageability and renew the hair with youthful shine. Retails for $9.29 for three 0.5-ounce, single-use ampoules.
Roux Anti-Aging extra Repair Leave-in treatment

with strengthening keratin rehydrates and repairs the hair and prevents split ends to reduce damage by up to 40%. This vitamin-enriched formula infuses keratin into the hair's cortex layer for stronger, longer hair. It also balances porosity to rejuvenate color-treated, bleached and double-processed hair. SRP $9.29 for three 0.5-ounce, single-use ampoules.
Roux Anti-Aging extra Volume Leave-in treatment

infuses thickening collagen into the hair to increase volume by 89% for younger-looking hair instantly. This concentrated treatment fights signs of aging for hair that's more youthful, bouncy, voluminous and shiny. Vitamins A & E both nourish and protect the hair, leaving it fuller and thicker to bring back beautiful, healthier, younger-looking hair. SRP $9.29 for three 0.5-ounce, single-use ampoules.
Roux Anti-Aging hair & Scalp Rehab Leave-in treatment

with renewing biotin improves the appearance of hair growth. It fights all signs of aging by stimulating the scalp to revitalize hair follicles and rehabilitates and rejuvenates thinning and/or age-weakened hair. Vitamins A & E both nourish and protect the hair, as they fight signs of aging to bring back beautiful, healthier, younger-looking hair. SRP $9.29 for three 0.5-ounce, single-use ampoules.
Where to Buy? Plus: A discount code for you!
Roux hair products are available at Sally Beauty Supply stores and
SallyBeauty.com
.
Code 555264 $7 OFF the
purchase
of any two Roux Anti-Aging Haircare Products
The Giveaway:
The Prize:
5 winners will each win one entire collection of Roux Anti-Aging Hair Care Products!
The Rules:
You must be 18 years old to enter (or have your parents permission).
Prize is shipped directly to the winners by Roux. Pammy Blogs Beauty is not responsible for items lost or damaged in mail/transit. Prize fulfillment is through Roux. Prize is not redeemable for cash.
To enter the contest, you must fill out Rafflecopter form below. The winner will be chosen randomly through Rafflecopter. In the event of technical error, Pammy Blogs Beauty reserves the right to pick the winner. The entries will be verified as needed and individuals with multiple or falsified entries will be disqualified.
Only one entry per person. With that said, you may earn extra entries by tweeting, liking on facebook, etc on the Rafflecopter form (see details below on how to earn extra entries).
Contest is void where prohibited by law.
Contest runs from 11/7/14-11/21/14. Winners have 48 hours to respond to winning email from Pammy Blogs Beauty or a new winner/winners will be selected.
To Enter the Contest (required rules):
Please see the rules listed above.
1. You must be a follower/Subscriber of this blog in at least one way to enter. You have multiple ways to follow this blog: e-mail subscription, Google Friend Connect,
facebook
,
twitter
,
Pinterest
,
Google+
,
BlogLovin
, and
Instagram
. The more ways in which you follow this blog, the more chances that you have to win!
2. Fill out Rafflecopter form below.
3. Answer question in comment form below: What are your hair-related anti-aging concerns?
4. You must like
Pammy Blogs Beauty's Facebook page
.
5. You must follow
Pammy Blogs Beauty on Google+
6. You must follow
Pammy Blogs Beauty on twitter
.
7. You must like
Roux on Facebook
.
For bonus (optional) entries:
You can tweet about this giveaway (one time per day max please!). Please include a link back to this giveaway and @pammyblogbeauty
You can follow this blog in more ways: Google Friend Connect, email subscription, Pinterest, BlogLovin, and Instagram.
Do a Blog Post about this giveaway (must include a link back to this giveaway and giveaway photo/art)
Thanks so much for entering! Good luck!!!
Enter here:
a Rafflecopter giveaway