This post is sponsored by U by Kotex and Walmart. All thoughts and opinions expressed are my own.
5 Must-Have Fall Essentials in my Handbag:
I always switch out my handbags with the change of season. Along with this? I stock up my purse with items that I need for this time of year. I carry a HUGE handbag. Why? With 2 kids in diapers (an 8 month old and a2 year old), my handbag functions as both a diaper bag and a purse. I need room for not only my essentials, but also items for the kiddos. I find that using a large handbag works better and looks more chic than a traditional diaper bag. I like using inexpensive handbags as my diaper bag/purse combo. That way, if I get baby/kid spills...no worries!
I am excited to share with you my 5 Must-Have Fall Handbag Essentials. Plus, keep reading to find out how you can score an incredible
U by Kotex coupon
!
My Handbag:
This bag is my newest addition to my handbag collection (from Forever 21). It is super basic. It is quite simply a tote with a snap closure. It is huge and also very lightweight (bonus points for that!). My only complaint is the lack of an inner pocket for my phone. It was very inexpensive and actually came as a set with another slimmer shoulder bag/cross body zipper bag that matches. I am toying with the idea of putting my items in the smaller matching bag and putting that bag inside the tote and carrying them as a set.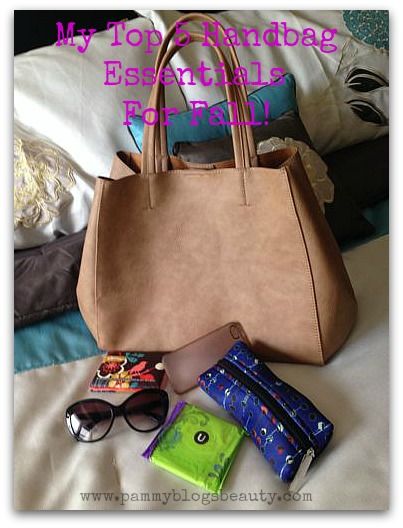 5 Must-Have Fall Essentials in my Handbag: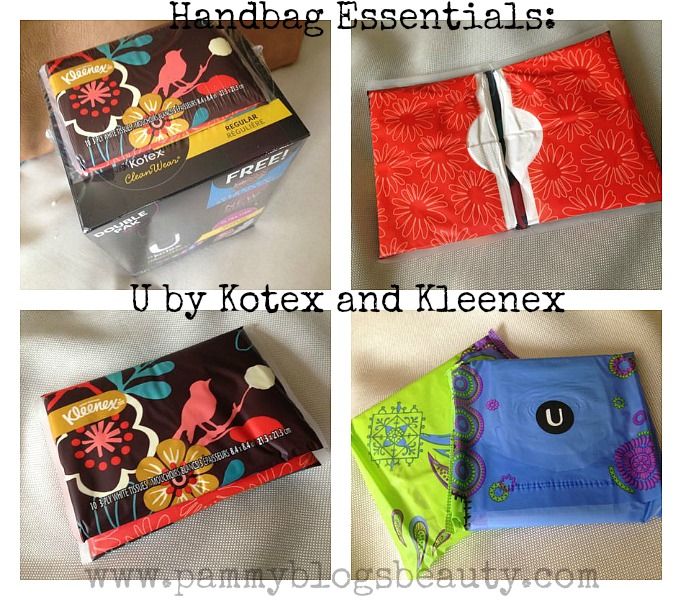 U by Kotex: Lets face it...no one wants to be stuck without their girl-essentials. I absolutely always have a sanitary pad and/or tampon in my purse as I often don't know when my cycle might hit. No one wants to be stuck in a situation where they are without a pad! So, I always carry a couple with me. I like these Ultra Thin "Clean Wear" pads by U by Kotex. They are super slim and have very cute and colorful packaging.
Kleenex Slim Packs: Fall is cold and flu season. With a toddler and a baby in the house, runny noses are constant! Actually, my toddler is just getting over a sinus infection and I have Fall allergies. So, you can imagine are noses are constantly running! I honestly can not leave the house without Kleenex. These Kleenex Slim Packs are so convenient for my handbag or diaper bag. Plus, look how cute they are! I love the Fall colors of this pack and the floral/bird design. Cute!
Sunglasses: I simply can't live without my sunglasses. I always have a pair either with me or I am wearing them. These are my Prada ones that I have had for years and they are still going strong. This classic and fashionable style goes with everything. I have a few pairs of glasses that I wear on a regular basis but these ones are really my favorite. As soon as I get home from outings, I tuck my sunglasses right into my handbag to store. That way I will never be without them when I leave the house. My eyes are very light blue and therefore very sensitive to light. Even when it is not that bright out, I squint if I don't have sunglasses. I always need them!
Phone: Who can't live without their smart phone these days? It is the quintessential handbag must-have! Like many of you (I am sure), this phone functions not only for a phone, texting, and Internet, but also I store my to-do lists and use the iCal. So, I always need it on-the-go! Funny, to illustrate the point of my phone always being in use...note the fact that it is only my case visible in these blog post photos, lol...because I use my phone to take my blog photos! :)
Makeup Bag/Minor Emergencies bag: I have really pared-down my makeup bag lately. I used to carry a gazillion products with me. However, I never seem to have the time to reapply. So, my makeup bag has morphed into my makeup bag/emergencies bag. The zipper bag itself is so cute! It is the Jonathan Cohen for Shu Uemura Art of Hair makeup bag (

The Jonathan Cohen for Shu Uemura

Art of Hair Beauty Bag retails for $98, or get it with three on-the-go beauty essentials, Full Shimmer Shampoo, Full Shimmer Conditioner and Essence Absolue in convenient travel sizes, for $162. The Cosmetic Bag retails for $48.)

Inside the bag, I keep a few basic makeup items: lip balm, lipgloss, face powder, and blotting sheets. These are really the only makeup items I need for on-the-go. So, the rest of the bag contains those "emergency" items: band aids, mints, anti-bacterial hand gel, small hairbrush, nail file, etc.
So, these are my handbag essentials for Fall. From
U by Kotex and Kleenex Slim packs to basics like Sunglasses and a Makeup Bag, I think I have all bases covered for Fall-time (and anytime!). I would love to hear about what you like to stock your bag with this time of year. :)
Details
About U by Kotex:
U by Kotex CleanWear pads:
• Have the new 3D Capture Core that quickly draws in and locks away wetness
• Feminine pads with super soft sides for your comfort
• Uniquely shaped pads with wings for a secure fit that helps prevent bunching
• Unscented ultra-thin sanitary pads for women (free of artificial scents and fragrances). Easy-open wrappers in four colorful designs
Limited Edition U by Kotex packaging with Kleenex Slim Packs:
For a limited time, you can get the U by Kotex pads and tampons with a special bonus pack of Kleenex Slim Packs! I picked up these pads at my new local Walmart store. While I was there I found not only an amazing deal on these pads, but also a few other things that I needed. Plus, I must admit that I was impressed that I was asked for help as I was was looking through the wall display of U by Kotex items for the pads that I needed. The sales associate pointed me to the end-cap unit that had a wider assortment of U by Kotex products. Very helpful!
U by Kotex Special Offer: Get your Coupon NOW!
Share and Save Opportunity:
Be sure to visit U by Kotex to take advantage of a special offer!
This is a "
Share and Save opportunity" where the more times you share the offer on Twitter, Pinterest, or Facebook, the higher the coupon value!
The offer includes three coupons for Kleenex ($0.50, $0.75, $1) and three for U by Kotex ($0.75, $1, $1.50). Don't miss this great deal! Share and Save now!
What are your handbag essentials for Fall? Are there items that you can never leave the house without?