Sponsored Post
I am a member of the Collective Bias Social Fabric Community.
This shop has been compensated as part of a social shopper
insights study for Collective Bias and their client.
I Heart my Nail Art with Sally Hansen's Fuzzy Coat:
Now let me tell ya'll...I am not a pro at nail art. However, I do think it is fun! I want to create a look that is easy to achieve, trendy, and fun-to-wear! I think that nail color and nail art is a fabulous way to unleash your inner artist and to display a fun side of your personality in your everyday look. I am excited to share my nail art inspiration, the pretty Sally Hansen Fuzzy Coat and Xtreme Wear Polishes, my Walgreen's shopping experience for the products, and the how-to's of how I create this nail art look!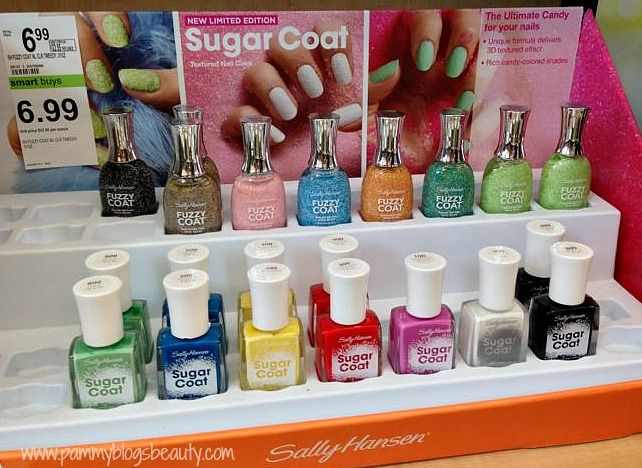 My Walgreens Shopping Experience:
I headed out to my local Walgreens to scope out the Sally Hansen Fuzzy Coat selection. I left with my list in hand: both Fuzzy Coat and Xtreme Wear was on my list.
Be sure to check out my
Sally Hansen Fuzzy Coat Walgreens Shopping Google+ Album
for my full photo album of my Walgreens shopping experience. :)
Lucikly, the Walgreens right on my corner had 2 displays of the Sally Hansen Fuzzy Coat polishes. One was a wall display as part of the regular Sally Hansen collection and the other was a small end-cap type display unit. Actually, I almost missed the display unit as it was way down on the bottom shelf. I saw it as I was heading to the checkout to buy my polishes that I selected from the regular wall display.
The Sally Hansen Hard as Nails Xtreme Wear polishes were part of the regular wall display. I knew right where to find those as I have been using Sally Hansen's Xtreme Wear polishes for years (and totally love both the color selection and the inexpensive price!).
Gotta love a sale!
I totally lucked out! Both the Sally Hansen Xtreme Wear *and* the Sally Hansen Fuzzy Coat polishes were on sale. Xtreme Wear polishes were on sale for $1.99 each and the Fuzzy Coat Polishes were 2/$10! I shopped with two specific nail art looks in mind. So, I purchased enough polish for two complete nail art looks. I used my Walgreen's "Balance Rewards" program card at the check out to earn rewards and get the great sale prices! My total Balance Rewards savings totaled to $6.38! I got 5 polishes for only $15.97. Can't beat that with a stick! ;)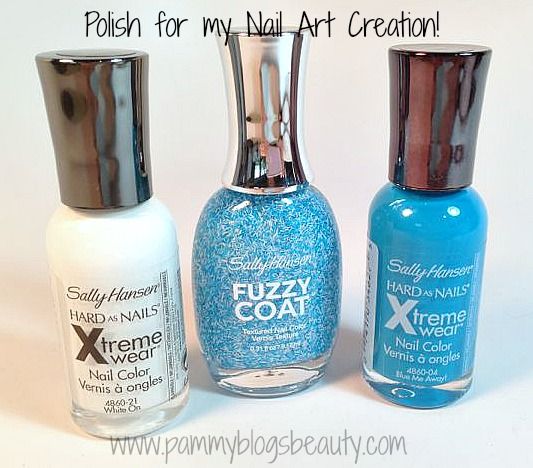 My Nail Inspiration:
As usual, I was inspired by Pinterest! I am always pinning not only beauty and fashion, but also recipes, kid ideas, home ideas, and tons of DIY projects. If you are not following me on Pinterest, shame on you (just kidding ya'll, you know I love you!). Here is the link to my Pinterest profile:
Pammy Blogs Beauty on Pinterest
. Be sure to join in on the Pinterest pinning fun! :)
So, my nail art inspiration stems from some of the breezy blue and white fashion and accessories that I seem to be drawn towards not only pinning on Pinterest, but also wearing in real-life! There is just something so fresh and clean about blue & white!
My Sally Hansen Polishes:
For my blue & white inpired nail art, I used the following Sally Hansen polishes:
Sally Hansen Fuzzy Coat in #700 Wool Knot: a light blue and white fleck glitter in a clear base
Sally Hansen Hard as Nails Xtreme Wear in #130 "Blue Me Away!": a bright opaque deep sky blue
Sally Hansen Xtreme Wear in #300 "White On": a pure white creme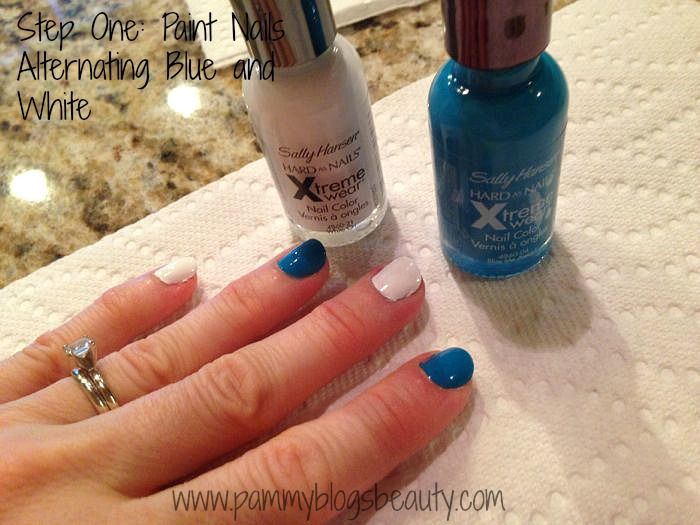 How to Create the Look:
To create this look start with alternating the "Blue Me Away" and "White On" as base shades. I used 2 coats.
The take either a dotting tool or a toothpick (I used a toothpick since I do not have a dotting tool) to create dots in the alternate color along the tip of the nail). I simply dipped the toothpick into the polish and then lightly dotted it on. Then I let it dry for a bit.
Next, apply a top coat of Fuzzy Coat in "Wool Knot" over the top.
Is blue and white not your thing? You could create this look with any color and then just top it off with a coordinating Fuzzy Coat polish. :)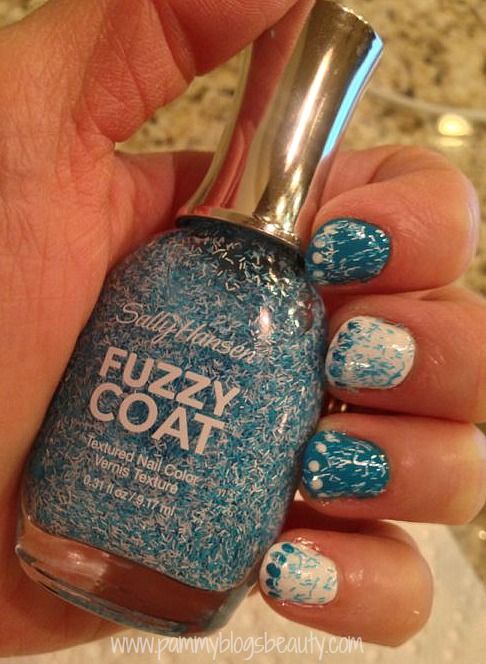 I had so much fun creating this look! It was super easy and surprisingly quick! I love how the Fuzzy Coat shows up differently depending on what base color you use. On the blue, the blue dissapears and you mostly see the flecks of white...and on the white, the white dissapears and you mostly see the blue. Very cool!!!
I am going to re-create this look with the other Sally Hansen polishes that I bought on my Walgreens shopping trip: the
Xtreme Wear in #370 "Black Out"
and the
Fuzzy Coat in #800 "Tweedy"
.
Have you seen these Sally Hansen Fuzzy Coat polishes at your local Walgreens? Which shades are catching your eye?
Be sure to scope out Sally Hansen and Walgreens on social media:
Walgreens twitter
,
Sally Hansen twitter
, and
Sally Hansen facebook
Shop the Post: