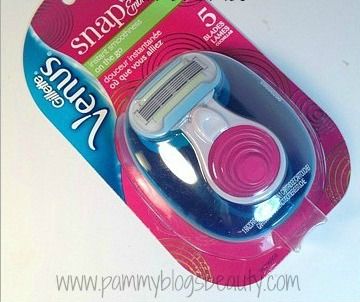 Have you seen the new
Venus Snap with Embrace Razor
? This portable razor might be the cutest little razor that I have ever seen. ;) Seriously though, as a long-time fan of the Venus razors...I was excited to try it out!
Well, I am happy to report that this little
Venus Snap with Embrace Razor
gives you the same great shave as the classic Venus Razor! It just has a different sized handle and a little portable container. This razor is absolutely perfect for travel or anyone who needs shaving on-the-go. The portible container is ideal for tossing into your gym bag or purse.
A great razor is a must for me. I am one of those unfortunate people who needs to shave every day. My leg hair grows thick and fast and I get ingrown hairs if I don't shave everyday. So, I need a razor that is quick and comfortable to use that also gives a super close shave.
The Packaging:
The
Venus Snap with Embrace Razor
and Container
This little
Venus Snap with Embrace Razor
comes in a blue clear and ventilated plastic container that snaps shut. There are holes in the bottom to allow air to circulate so that your razor can dry. The
Venus Snap with Embrace Razor
is just a little over 2 inches long and has a wider handle with a flexible rubbery grip. When I first looked at this razor I thought it might be awkward to hold something so small while shaving...but, actually, it turns out it is very comfortable to hold and that the small size is honestly really easy to use and maneuver for a quick shave.
The Shave:
I am extremely pleased with the shave that I get with this
Venus Snap with Embrace Razor
! The razor literally glides right over my skin painlessly removing hair and leaving me feeling super smooth! The razor features five "curve hugging" blades that seem to flex right around all the contours and curves of your legs. Plus, the
Venus Snap with Embrace Razor
has water-activated moisture strips that give the razor a super slick glide.
Find your Perfect Razor:
Gillette
Venus
Razor Finder Quiz, to help women find their "Perfect Match":
http://pubads.g.doubleclick.net/gampad/clk?id=111950523&iu=/5485/sugar.pop/track
Overall, I really enjoy using this little
Venus Snap with Embrace Razor
! I find that the design is ideal for travel/on-the-go use as well as everyday use. I sit the little container right on the shelf in my shower and if I need to take it anywhere, I can just pop it right into my bag. Besides being very portable, it also gives a great shave!